Beavis Sinatra (@beavis_sinatra) is a twitter user who has been reportedly torturing Dril since 2004 by sending him images of coffee cups on tables he deems too close to the edge. He or she was last seen doing this in Apr 2017. It is not known why they do this, nor whether Beavis Sinatra is their true name.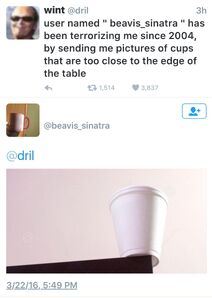 Ad blocker interference detected!
Wikia is a free-to-use site that makes money from advertising. We have a modified experience for viewers using ad blockers

Wikia is not accessible if you've made further modifications. Remove the custom ad blocker rule(s) and the page will load as expected.