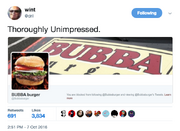 Bubba Burger is a brand of cookable meats manufactured and sold by the Bubba Corporation. Their products are sold in most major department and grocery stores.
On October 7, 2016 dril began tweeting to Bubba Burger's account asking them to take down various posts that he disliked. Within an hour, he was blocked by their account. He quickly discovered this and tweeted a screenshot along with his displeasure at their decision. For a brief period of time, his twitter bio simply read "Blocked by Bubba Burger for some reason" Dril fans are asked to boycott any and all Bubba Burger products out of duty and loyalty to The Brand.
Ad blocker interference detected!
Wikia is a free-to-use site that makes money from advertising. We have a modified experience for viewers using ad blockers

Wikia is not accessible if you've made further modifications. Remove the custom ad blocker rule(s) and the page will load as expected.